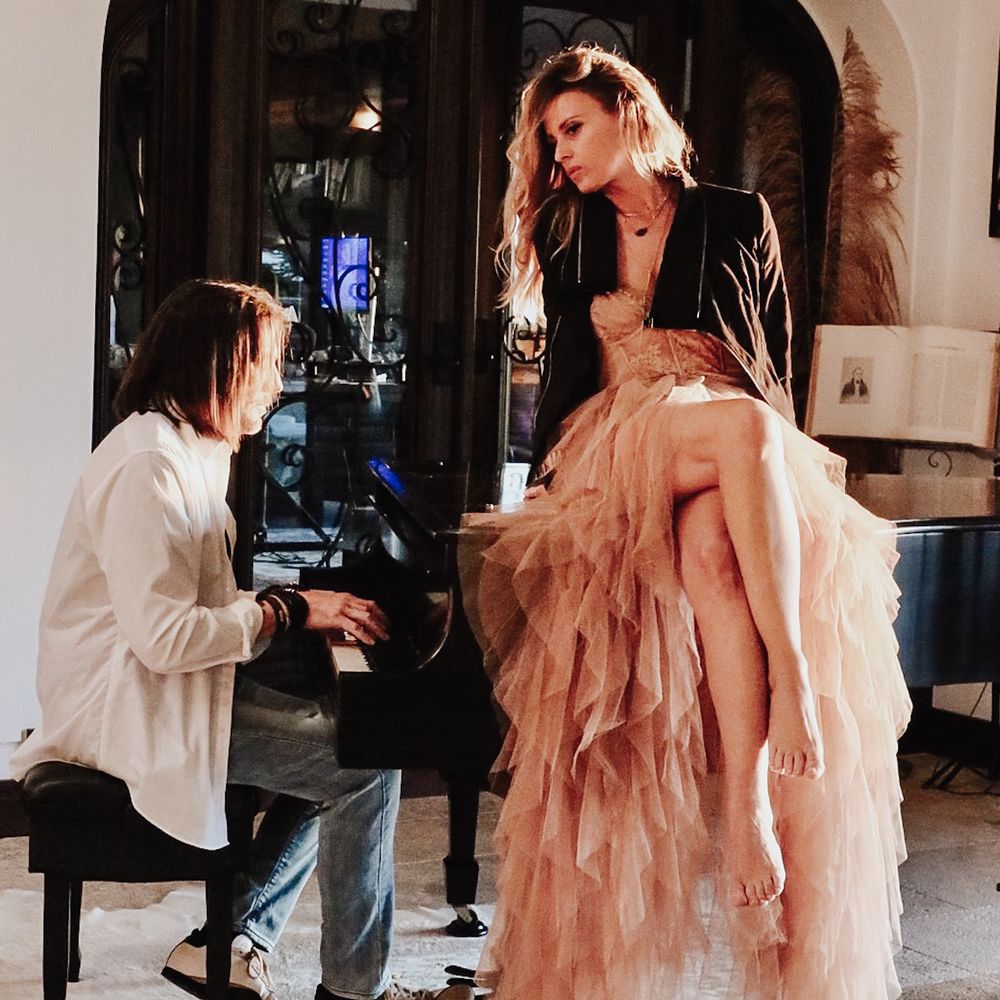 Norah Jones meets Dave Grohl
Saint James is an acoustic cover band located in Southern CA, showcasing the talents of Gwendolyn Edwards Karkenny and Aubrey Dana.  Bringing their improvisational sensibilities to a diverse range of covers, Gwen and Aubrey enjoy surprising audiences with quirky song choices and unique arrangements of well-known songs.
Described as Norah Jones meets Dave Grohl, Gwen & Aubrey have a heavenly gift for haunting harmonies and unique arrangements that achieve a big sound with sharp simplicity.  They each have earned reputations as great live performers, and together they light up a room with their chemistry and combined talent. 
Gwendolyn's sensual, soaring vocals & original works are featured in a number of movies and commercials, contributing to the catalogs of Crucial Music, Warner Chappel Music, Figure & Groove, and winning an LA Music Award. She has fronted a band performing her originals across LA for over a decade. Aubrey has been performing as a pro guitarist since the age of 14, playing with various touring acts, cover bands, and recently fronting a Foo Fighters tribute band.
Songs range from Michael Jackson to Sinatra, Prince to Britney Spears. The instrumentation blanketing their buttery vocal harmonies includes Aubrey on guitar, Gwendolyn on piano, drums and cello depending on the situation.  Whether tasteful background music or fun, audience-engaging crowd pleasers, Saint James brings a unique appeal and sophistication.
 
LISTEN
0:00/3:58

0:00/4:16

0:00/3:44

0:00/3:57

0:00/4:05

0:00/3:22

0:00/5:13
SONG LIST
Billie Jean | Michael Jackson
Back In Black | AC/DC
Time Like These | Foo Fighters
With Or Without You | U2
I Will Follow You Into The Dark | Death Cab For Cutie
Hysteria | Def Leppard
When The Party's Over | Billie Eilish
Little Red Corvette | Prince
Don't Stop Believin' | Journey
You Shook Me All Night Long | AC/DC
Just What I Needed | The Cars
Barton Hollow | The Civil Wars
The Sound Of Silence | Simon & Garfunkel
Creep | Radiohead
I Got A Girl Crush | Little Big Town
Hell Of A View | Eric Church
Poison & Wine | The Civil Wars
Shallow | Lady Gaga and Bradley Cooper
Complicated | Avril Lavigne
To Be With You | Mr. Big
Best Of You | Foo Fighters
Toxic | Britney Spears
Fix You | Coldplay
Sex And Candy | Marcy Playground
Forget You | Ceelo Green
Need You Now | Lady Antebellum
She Will Be Loved | Maroon 5
Just The Way You Are | Bruno Mars
Drops Of Jupiter | Train
Fools Rush In | Elvis Presley
Wicked Game | Chris Isaak
Time After Time | Cindy Lauper
Hallelujah | Leonard Cohen
I Had Me A Girl | The Civil Wars
Devil's Backbone | The Civil Wars
Born To Be Wild | Steppenwolf
All About That Bass | Megan Trainer
7 Nation Army | The White Stripes
The Flame | Cheap Trick
Wild Horses | Rolling Stones
FORGET YOU | CEE LO GREEN 
HONKEY TONK WOMAN | Rolling Stones
DREAM ON | AEROSMITH
ALL ABOUT THAT BASS | MEGAN TRAINOR 
ARE YOU GONNA BE MY GIRL | JETT
POKER FACE | LADY GAGA
FEVER | PEGGY LEE
AIN'T NO SUNSHINE | BILL WITHERS
HIT THE ROAD JACK | RAY CHARLES
DOCK OF THE BAY | OTIS REDDING
WHAT'S LOVE GOT TO DO WITH IT | TINA TURNER
PROUD MARY | TINA TURNER
CAN'T STOP THE FEELIN | JUSTIN TIMBERLAKE
SWEET CHILD OF MINE | GUNS AND ROSES
ONE WAY OR ANOTHER | BLONDIE
CALL ME | BLONDIE
REBEL YELL | DAVID BOWIE
YOU'RE NO GOOD | LINDA RONSTADT
EVERY BREATH YOU TAKE | THE POLICE